Healthy spring roasted chicken with lemon and garlic
Spring is here and so are meals that celebrate its freshness.
This healthy spring roasted chicken recipe with lemon and garlic is just the meal to spring your tastebuds to life.
It is so easy to prepare and pairs nicely with a side of fresh steamed Broccoli.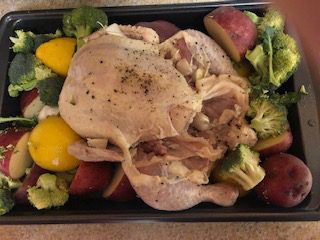 Ingredients
3 ½ – 4-pound whole chicken (any larger it might dry out)
1 fresh lemon
¼ cup of unsalted butter or extra virgin olive oil
1 head of fresh garlic
Kosher salt
Freshly ground pepper
Preparation:
Arrange your rack in the center of your oven and preheat your oven to 425 degrees
Cut the lemon in half crosswise and remove any visible seeds
Cut 1 head of garlic crosswise (don't worry if it falls apart a little)
Melt butter in a small saucepan or microwave in a small bowl
Place the chicken on a cutting board.
Pat the whole chicken dry with paper towels (This helps with browning.)
Using a knife carefully slice the skin between the leg and the breast until you feel the bone. This will allow the leg to spread away from the breast. Do not cut the leg all the way through. Do the same with the opposite leg. Gently pull the legs away from the breast making a small pocket between the leg and the breast
Transfer the Chicken to an oven safe skillet or small baking pan.
Arrange the lemon and garlic cut slices down next to the chicken as close as possible. (I added some fresh cut broccoli and red potatoes around the chicken to fill in the pan this is optional)
Drizzle the melted butter/oil over the chicken and transfer to the oven
Roast the chicken until browned and cooked through checking for doneness after 45 minutes. Use a meat thermometer to insert into chicken until it reads 165 degrees. Juices should run clear and meat should be opaque in color. If chicken needs more time, continue to roast checking every 5 minutes until done.
Let Chicken rest for 15 minutes in the skillet to cool down.
+ For a less calorie/fat option discard the skin.